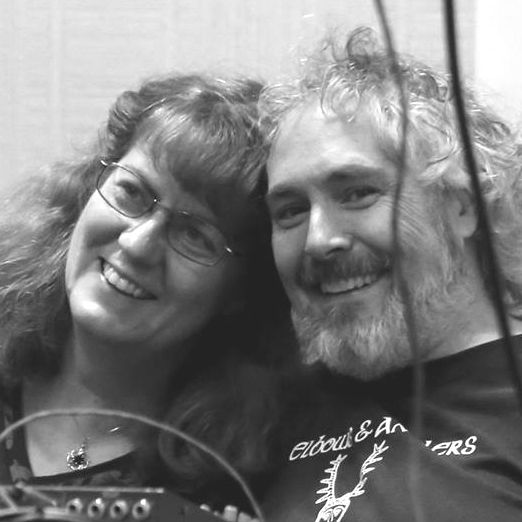 Oakland-based independent record label, music production company, and recording studio Flowinglass Music was founded in 1993 by husband and wife musical team Margaret Davis and Kristoph Klover. Flowinglass Music publishes the works of Celtic rock band Avalon Rising, Celtic/Early Music group Brocelïande, Celtic duo Margaret & Kristoph, singer/harper Margaret Davis, and singer/guitarist Kristoph Klover.
Recordings on the Flowinglass Music label are available through iTunes, CDBaby, and Amazon, and our catalog is also distributed by Sugo Music. Our music has been widely featured on Internet and traditional radio stations, newspapers, and magazines.
One of our best-selling titles, The Starlit Jewel, features songs from the writings of Tolkien, and is one of the very few recorded settings of Tolkien's poems to be officially authorized by the Estate and publisher of J.R.R. Tolkien.
Music by our Celtic rock band Avalon Rising has been featured in movies and television, including the movie Cost of a Soul, and commercials for the Boston Globe, and was included in The Secret World of Celtic Rock (Celtic MP3s Music Magazine) and The Best of Pagan Song (Serpentine Music).
The recordings by Celtic/Early Music group Brocelïande have received wide international acclaim and have been featured in the movie To The Sea. Members of Brocelïande were featured in the Disney movie Bedtime Stories starring Adam Sandler.
Clients and artists who have used the Flowinglass Music studio have included J.d. Buhl, Prometheus Music, Grammy-winner Janet Harbison, 5 time all-Ireland concertina champion Gearóid Ó hAllmhuráin, fiddlers Martin Hayes and Patrick Ourceau, viellist Shira Kammen, singer Gunnar Madsen, accordionist Nada Lewis, cellist Kris Yenney, singer/songwriters Leslie Fish, Cynthia McQuillin, Diana Paxson, and Seanan McGuire, filmmakers Carol Wolf and Eric Elliott, and many others. The most recent project recorded in our studio is "Some Are Still Not Free" -- just released by the J.d. Buhl Band. Get it here from CDBaby!
We gratefully acknowledge the help we have received over the years from angel investers Eli Goldberg, Seanan McGuire, Bob Laurent, Marion Zimmer Bradley, Elisabeth Waters, Rob Wilson, Chris Illes, Dr. James Robinson, Norma and Rodney Davis, Bill and Alice Klover, and from Deirdre McCarthy, Arlin Robins, Michael Jhon, Alexia Massalin, Tracey Hytry, John & Chris O'Halloran, David Bowman, and Larry the O, as well as bandmates past and present: Kris Yenney, Kevin Fanning, Chris Fox, Karl Franzen, Pete Gascoyne, Brett Glass, Scott Irwin, Mary Kay LaRivers, Deirdre McCarthy, Anthony Medina, Beth Milne, Angelique Ogden, Mike Pooler, Cat Taylor, Mark Ungar, and Kyle Wohlmut.
Blessings,
Margaret Davis and Kristoph Klover